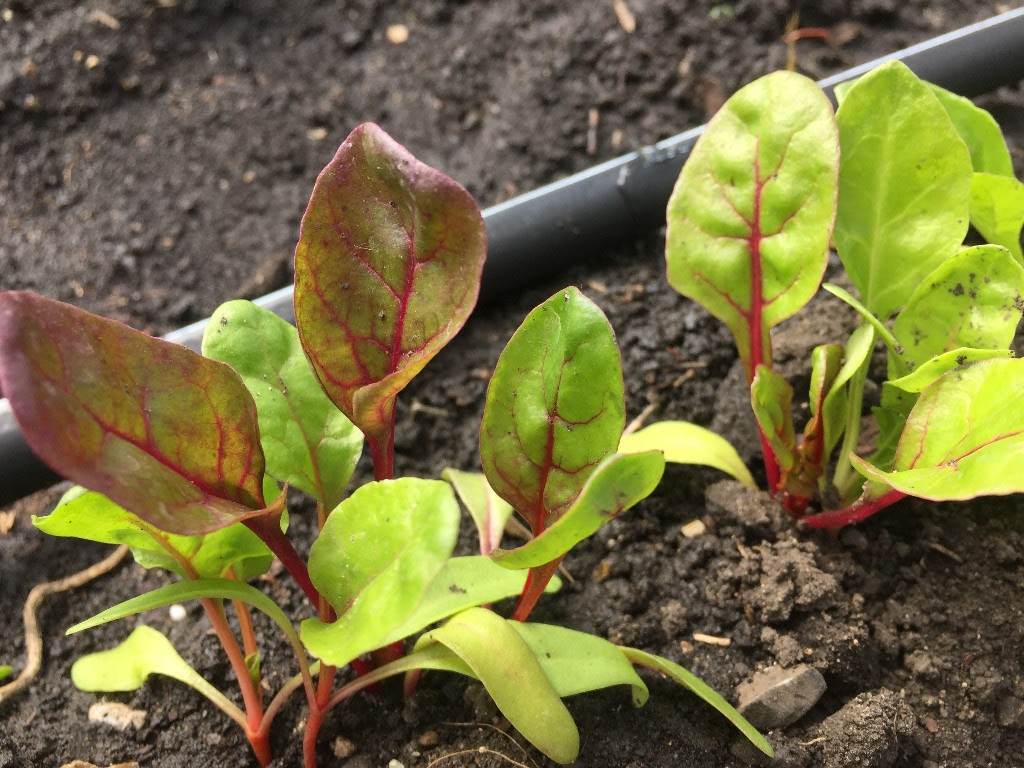 Farm News - April Winter Share   
Announcements & Reminders

We are delivering the final Winter Shares and Puree Cases this week. Please note our winter pickup schedule is different than other seasons:

Tuesday Pickups: 
Deerfield, 1:30-6:30pm
Northbrook, 3:00-6:00pm
Evanston, 4:00-7:00pm
Lake Forest, 4:00-7:00pm

Thursday PIckups
Allstate, 2:30-5:30pm
Libertyville, 3:30-7:00pm
Vernon Hills, 2:00-7:00pm
Oak Park, 4:30-7:00pm
Grayslake Farm, 3:30-7:00pm

Spring Shares begin in just 3 weeks! Spring Vegetable and Spring Egg Sharesbegin the week of April 23. We're giddy with excitement to share the tender, sweet vegetables of spring and fresh farm eggs with you. Spring shares close soon so don't delay to sign up!

New Pickup Location! At the request of new members, we've added a new pickup location in Winnetka at Reprise Coffee Roasters at 950 Green Bay Rd, Tuesdays, 2:00-5:00pm. Please help us share the news with your friends and family in the area. Thanks!   
This Month's Produce Harvest
Carrots
Parsnips - from Tipi Produce, Evansville, WI
Russet Potatoes - from Igl Farms, Antigo, WI
Shallots
White Button Mushrooms - from River Valley Ranch, Burlington, WI
Tart Cherries*
Blueberries*
Juliet Tomatoes*
Bell Peppers*
Roasted Broccoli or Green Beans*
*These summer treats are frozen.   
Farm Photo Journal Good morning from the farm! 


The spring equinox was two weeks ago today, a fitting end to the Winter Share season. We want to thank our Winter Share members for their support of year-round farming in our region! Thank you for eating local and seasonally with us this winter. 
The transition to spring is welcomed with its longer days of sunlight, warmer temperatures and chilly reminders that we must carefully tend to the delicate life here on the farm.  
We welcomed 400 "youngsters" to the farm with the arrival of our new chicken flock. These young chickens, or pullets, are now 18 weeks old, so they are still getting used to their new life on our farm. The first day they arrived, each chicken tentatively stepped through their new coop, inspecting each corner with care. They've spread their wings since then, both literally and figuratively, and explored in their outdoor pasture areas. Jeff checks on them 4-5 times a day ensuring they are learning to find water and food, and to make sure they are safely closed in at night. 
Jeff and Tyler were thrilled to find the field conditions just right for a few early spring projects. They observed the moisture levels in the soil, checked soil temperatures and considered the weather prediction to determine their best course of action. In the picture above, Jeff headed to our future onion field to cultivate the edges of the plastic mulch so there will be fewer weeds to fight off later in the season.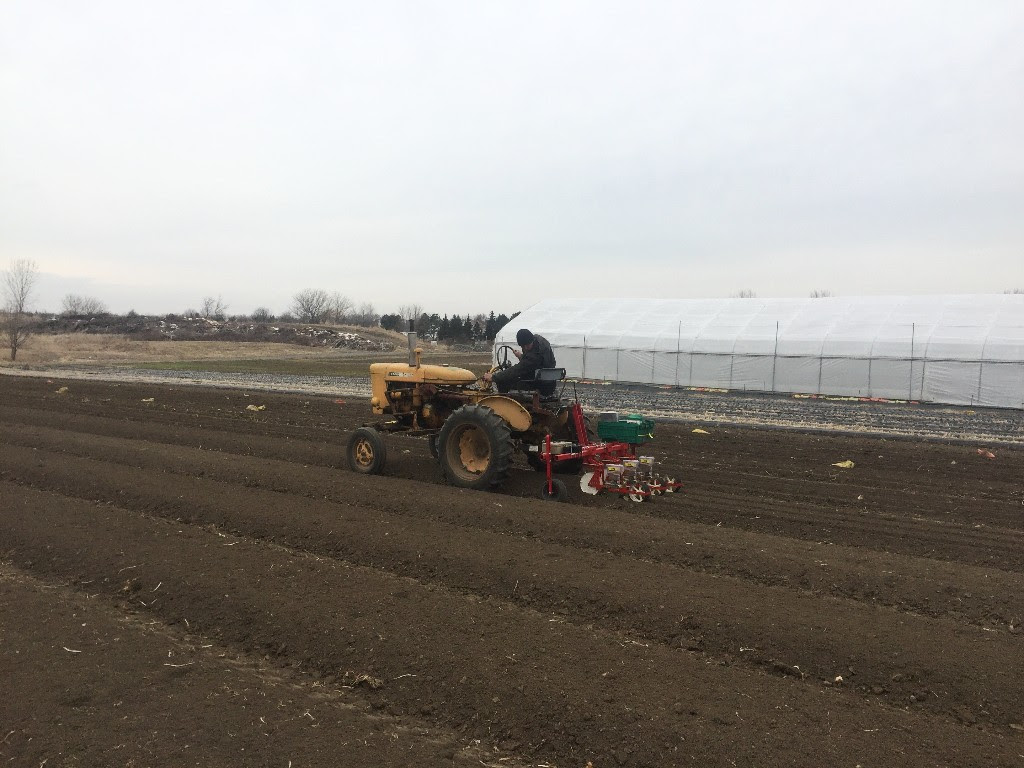 Tyler took to our nearby field to seed some very early spring greens. After these beds were seeded, they were covered to keep the seeds warm and received the gentle rains that were predicted in the forecast. 
Charlotte and Mark planted our first bok choy into the hoophouse. Bok Choy is one of the first plants we put into the ground. We're experimenting with a few new varieties of bok choy this year to add diversity for members.  
We continue to weed and care for another early crop -- the red radishes growing in the hoophouse. Look at how this radish leans to the south trying to catch every bit of sunshine it can!  
Elaine keeps busy in the greenhouse tending to the first of our lettuce and onion seedings by watering them twice daily, monitoring and adjusting greenhouse temperatures, and watching for any pests who are also hungry for delicate spring greens.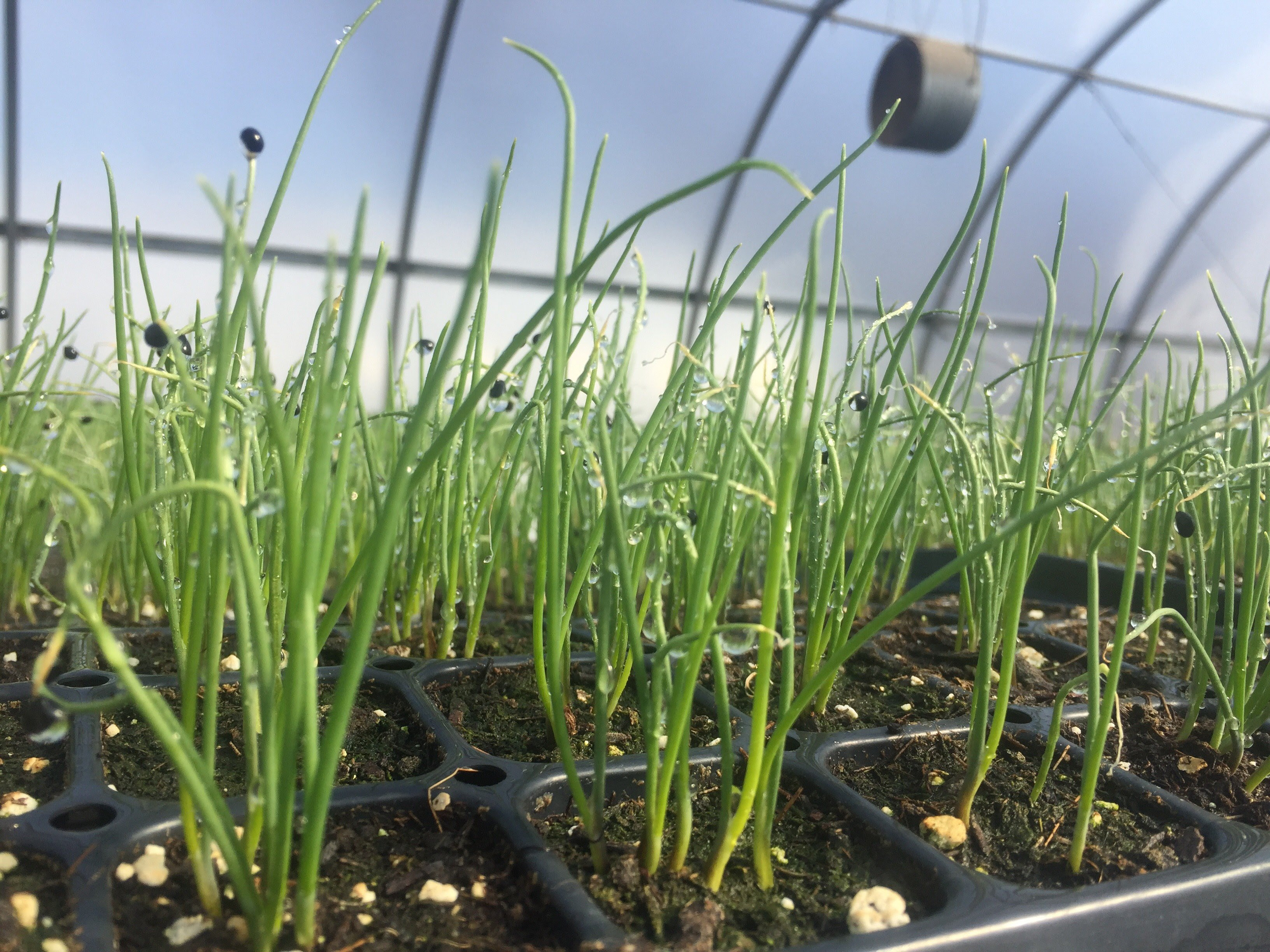 Winston provides companionship, morale support and reminds us to take a minute to relax.
What we love about farming is that its a never-ending process of education and learning. We find there's no better way to learn than to experiment, observe and assess in the field. Jeff's no-till cover crop experiment was carried out over the course of the past nine months. Jeff allowed an oat crop to mature and reseed itself (allowing its seeds to drop again and grow) in an effort to build our soils and enhance the soil's microbial life. The oats naturally die back through the winter covering the soil to protect and keep it in place. We look forward to seeing the next crop grown in this field and observing how it reacts to the improved soil health within this field.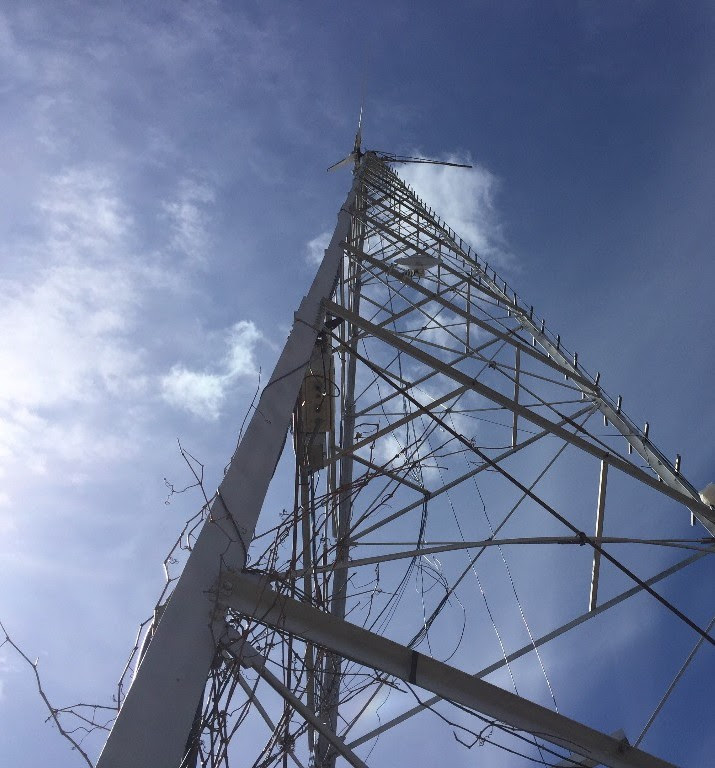 Finally, we make sure to take a moment, between the spring projects, to look up to the sky, listen to the migrating birds and enjoy the season. Here's to more sunshine and blue skies to come this spring!

Your farmers,
Jeff, Jen and the farm crew   
Making the most of your share
Parsnips are closely related to carrots, though they have a nutty-sweet taste and hearty texture all their own.  Like carrots, they can be harvested in the fall, but they are much sweeter when left in the ground all winter and then dug in the spring. These spring-dug parsnips come from Steve Pincus and Beth Kazmar of Tipi Produce in Evansville, Wisconsin. We've known Steve for a long-time, and we've always admired his care for his farmland, his willingness to share farming knowledge and his warm, kind spirit. These over-wintered parsnips are particularly well suited to roasting and mashing, and are wonderful when combined with carrots!   
This month's shares include white button mushrooms from our friends at River Valley Ranch in Burlington, Wisconsin. Mushrooms are an excellent source of B and D vitamins, riboflavin, niacin and fiber. To prepare them, wipe the caps clean with a damp paper towel and trim off the very end of the stem. Due to their moisture level, its best to use mushrooms within a week of receiving them. Or you can preserve them by briefly sautéing and freezing them in a ziplock bag for later use in pastas or soups.   
Farm Kitchen Recipes
Rosemary-Rubbed Side of Salmon with Roasted Potatoes, Parsnips, and Mushrooms
1 1/2 cups loosely packed fresh rosemary leaves
4 teaspoons coarse kosher salt
2 teaspoons freshly ground black pepper
6 tablespoons olive oil, divided
1 pound potatoes, cut into 3/4-inch pieces
1 pound parsnips, peeled, cut into 3/4-inch pieces
1 3 1/2- to 33/4-pound whole side of salmon with skin
1 pound mushrooms, quartered if large, halved if small
1/3 cup Pinot Noir or other dry red wine
 
Blend rosemary, salt, and pepper in processor until finely chopped. With machine running, gradually add 4 tablespoons oil; process to coarse paste. Position 1 rack in top third and 1 rack in bottom third of oven; preheat to 450°F. Toss potatoes, parsnips, 2 tablespoons oil, and 3 tablespoons rosemary mixture in large bowl. Transfer vegetable mixture to rimmed baking sheet, arranging in even layer. Roast vegetables on lower rack 20 minutes. Line large rimmed baking sheet with parchment. Place salmon, skin side down, on sheet. Spread with remaining rosemary mixture. Toss mushrooms with vegetable mixture. Return vegetable mixture to lower rack; place salmon on upper rack. Roast salmon until just opaque in center and vegetables until tender, about 20 minutes. Place salmon and vegetables onto platter.
 
Place vegetable baking sheet over 2 burners on high heat. Add wine and bring to boil, scraping up browned bits. Drizzle juices over salmon.
(adapted from Bon Appetit)
 
Spring Minestrone With Chicken Meatballs
Soup is wonderful in its flexibility, so I always add lots of vegetables – both fresh and frozen – for flavor, nutrients and color.
 
6 ounces ground chicken (about 3/4 cup)
1/2 cup fresh breadcrumbs
6 tablespoons finely grated Parmesan, divided, plus more for garnish
2 garlic cloves, minced
2 tablespoons chopped fresh chives
1 large egg, whisked to blend
Kosher salt, freshly ground pepper
2 tablespoons extra-virgin olive oil
4 shallots, minced
5 cups low-salt chicken broth
3/4 cup ditalini or other small pasta
1 cup 1/2" rounds carrots
1 cup white mushrooms
1 cup (packed) spinach
1-2 cups of frozen vegetables (e.g., broccoli, green beans, tomatoes)
Chopped fresh basil
 
Mix chicken, breadcrumbs, 3 tablespoons Parmesan, 2 minced garlic cloves, chives, egg, 3/4 teaspoon salt, and 1/4 teaspoon pepper in a medium bowl. Form into 1/2"-diameter meatballs (makes about 28). Heat oil in a small pot over medium heat. Cook meatballs until golden all over, about 3 minutes (they will finish cooking in soup). Transfer to a plate; set aside.
 
Add shallots and mushrooms to pot and cook, stirring often, until beginning to soften, about 3 minutes. Add broth and 2 cups water; bring to a boil. Stir in pasta and carrots; simmer until pasta is almost al dente, about 8 minutes. Add meatballs; simmer until pasta is al dente, carrots are tender, and meatballs are cooked through, about 3 minutes. Add spinach, frozen vegetables and remaining 3 tablespoons Parmesan; stir until spinach is wilted and Parmesan is melted. Season with salt and pepper. Ladle soup into bowls. Garnish with chopped basil and Parmesan.
(adapted from Epicurious.com)
 

"Burnt" Carrots and Parsnips
1½ pounds carrots, peeled, halved lengthwise, cut into 4-inch pieces
1½ pounds parsnips, peeled, cut into 4-inch pieces
2 tablespoons olive oil
Kosher salt, freshly ground pepper
¼ medium onion, finely chopped
4 tablespoons unsalted butter, cut into pieces
¼ cup bourbon
3 tablespoons dark brown sugar
 
Preheat oven to 450°. Toss carrots, parsnips, and oil on a rimmed baking sheet; season with salt and pepper. Roast, tossing occasionally, until tender and charred in spots, 20–25 minutes. Remove vegetables from oven, add onion, butter, bourbon, and brown sugar, and toss to coat. Roast, tossing occasionally, until sugars have caramelized and vegetables are completely softened, 8–10 minutes. Transfer vegetables to a platter and pour any juices over.
(Bon Appetit)
Next Harvest: Spring! (our best guess)... radishes, winter spinach, chives, ramps and more!