Farm News - March Winter Share   
Announcements & Reminders
Winter Produce and Egg Shares pick-up this week - Pickups 

Tuesday

in Deerfield, Evanston, Northbrook/Highland Park, Lake Forest and Pickups 

Thursday

 in Allstate, Libertyville, Vernon Hills, Oak Park, and at the Farm.
Upcoming Delivery Dates:
  This Month's Produce Harvest
Beautyheart/Watermelon Radishes
Celery Root
Wintered Fresh Spinach
Carrots
Yellow Onions
Tart Cherries*
Blueberries*
Black Turtle Beans
Shared Harvest Tomato Puree
*These summer treats are frozen.   
Farm Photo Journal 
We welcomed Tyler, Charlotte and Elaine back to the farm in February with plenty of sunshine! 
There were plenty of projects to keep everyone (even Owen!) busy. The team set to work building additional warm germination chambers for seedlings, building tables for seeding and fixing bird housing around the farm. 
I kept busy with tending to our hens, collecting eggs and keeping hens comfortable inside (!) their cozy, safe coop. 
Our conference season did not disappoint! We learned about everything from coping with climate change to improving soil health by encouraging expansive fungal networks in our farm ecosystem.  
We also recharged ourselves with a meet-up of fellow farmers and grazers from southern Wisconsin and northern Illinois. 
We returned to the farm ready to put seeds into the soil! Charlotte and Elaine wore short sleeves as the greenhouse temperatures reached a comfortable high 70 degrees and they began to seed early spring crops like bok choy, lettuce and fennel. 
Meantime, Jeff directly seeded radishes and spring salad turnips into fine rows within the hoophouse. 
Once the seeds are sowed, Jeff and Tyler began tending to the crops. In this picture, Jeff demonstrates flame weeding. He "flames" the small weed sprouts to prevent their growth, removing them as competition against the radish and turnip sprouts. 
A brief window into the flame weeding process.
The tiny flames are the weeds being singed. 
As we watch for more evidence of early garlic growth, we enjoy the winter sunsets over the farm windmill. Enjoy your shares this month!
 
Your farmers,
Jeff, Jen and the farm crew   
Making the most of your share 
Overwintered spinach has thicker and sweeter leaves than spring-planted spinach. Our wintered spinach is planted late in the fall and grows throughout winter enduring a series of frosts and thaws. This natural process of temperature change and low light that provides the leaves with their deliciously sweet flavor, textured appearance and dark green color. Because of its thick leaves, wintered spinach is best used in cooked dishes rather than eaten raw in salads. We've provided each member with a pound of cut spinach this week, so we hope you'll enjoy adding to soups, egg dishes, lasagna, green smoothies and your morning toast!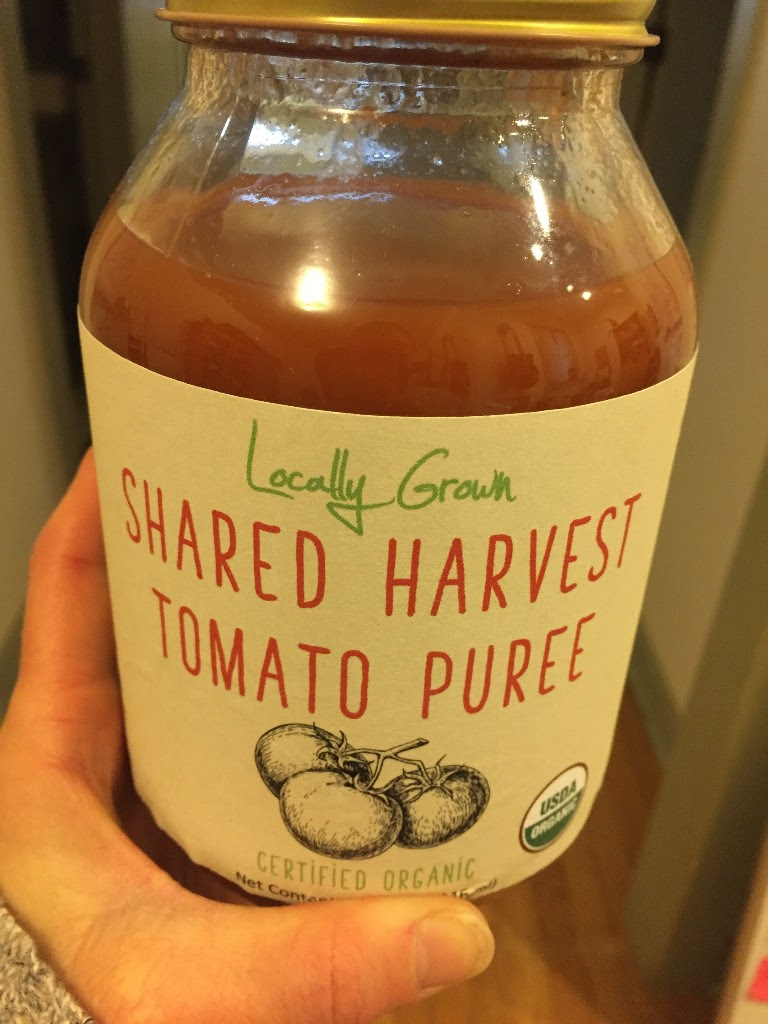 This month's shares include a surprise that we produced for just for you -- certified organic tomato puree. This may truly be a surprise as many of our members remember that last season's tomato harvest seemed grim due to losing a quarter acre of our tomato crop to heavy flooding. But we made the best of what we were given in cooperation with our good friends at Turtle Creek Gardens. 
Turtle Creek Gardens is run by Janet Gamble and Steve Tomlins. The farm consists of 20 acres devoted to certified organic vegetable production and 80 acres of grazing lands. Nestled in the Turtle Creek watershed just north of Delavan, WI, Turtle Creek grows using organic and biodynamic farming practices that care for the soil, ground water, and adjacent natural areas. We've known Janet Gamble for nearly 12 years in her various roles as a farm educator, farming advocate, farmer and friend.

With a shared vision for creating a tomato-based product for of our CSAs, farmers markets and chefs, both farms harvested from their certified organic tomato fields and combined our harvests to produce 
Shared Harvest Tomato Puree.
  
Tomato puree is a sauce of pureed, briefly cooked tomatoes that have been strained of seeds and skins. Our recipe includes a nominal amount of organic seasonings.  The puree is a wonderful base for soups, chili and pasta sauce. It can also be used as a basting liquid when roasting vegetables or in the crockpot when for slow-cooking a roast. The puree is shelf-stable, and should be refrigerated after opening.

As we have in the past, we'd be happy to sell cases of tomato puree at 20% off market price to our members. If you're interested, please order online and we'll deliver the first week of April. 
This week's vegetable shares include Black Turtle Beans from our friends, Molly and John Breslin at Breslin Farms in Ottawa, Illinois.  Breslin Farms is a father-and-daughter operation growing certified organic row crops on the family farm. The black turtle bean is believed to have originated in southern Mexico and Central America over 7,000 years ago. Black Turtle beans are one of the tastiest beans the Breslin's grow. They have a deep, rich flavor that works superbly in soups, chili, and as refried beans. Its become one of our favorites!    
Farm Kitchen Recipes
Black Bean Soup
1 lb. black turtle beans, rinsed and soaked overnight*
1 sm. Red onion, chopped
1 sm. Carrot, chopped
2 whole serrano or 1 whole jalapeno chile (optional)
2 bay leaves
1 T. ground cumin
¼ lb. bacon, chopped
4 ¼ C. organic chicken broth
¼ t. salt
Freshly ground pepper
Cook bacon, onion and carrots in Dutch oven until bacon is crispy. Drain beans and add to pot. Add rest of ingredients, bring to boil, reduce heat and simmer covered for 1 hour. Uncover and simmer until beans are very tender, about 15 minutes.
Remove bay leaves and chiles and discard. Add extra broth and puree beans until they are creamy if preferred.

*Start with this basic Black Bean Recipe
2 cups black beans, soaked overnight in water, rinsed well
1 med. red onion, diced
2 clove garlic, minced
2 medium hot peppers, dried or fresh, (stems, seeds and membranes removed)
Add all ingredients to a medium pot. Cover beans with 2-3 inches of water. Bring to boil, reduce to simmer, add lid and cook until just tender (30 to 40 minutes). When tender but still very soupy, add one 6 oz. can tomato paste (organic preferred).
Use as is with breakfast dishes, tortillas, quesadillas, tacos, etc. Or use as a base from which to make soups and other Mexican dishes.

Sunday Evening Vegetarian Chili
1/4 cup olive oil
2-3 medium yellow onions, chopped
1 green bell pepper, chopped
6 garlic cloves, chopped
2 tablespoons chili powder
2 tablespoons ground cumin
2 teaspoons dried oregano
3 15-ounce cans red kidney beans, drained and rinsed
1 jar Shared Harvest tomato puree
chopped fresh cilantro, sour cream and grated cheese for garnish
 
Heat oil in heavy large pot over medium-high heat. Add shallots, green pepper and garlic; sauté until shallots soften, about 10 minutes.  Mix in chili powder, cumin, oregano; stir 2 minutes. Mix in beans and tomato puree. Bring chili to boil, stirring occasionally. Reduce heat to medium-low and simmer until flavors blend and chili thickens, stirring occasionally, about 15 minutes. Season to taste with salt and pepper. Ladle chili into bowls.  Garnish with chopped cilantro, sour cream, and grated cheese. Serves 4-6.

Celery Root Salad with Lentils, Hazelnut And Mint
1/3 cup whole hazelnuts (skin on)
1 cup Puy lentils
3 cups water
2 bay leaves
4 thyme sprigs
1 pound celery root, peeled and cut into 3/8-inch "fries"
4 tablespoons olive oil
3 tablespoons hazelnut oil
3 tablespoons good-quality red wine vinegar
Salt and black pepper
4 tablespoons chopped mint

Preheat the oven to 275 degrees. Scatter the hazelnuts on a small baking sheet and roast in the oven for 15 minutes. Let them cool down then chop roughly. Combine the lentils, water, bay leaves and thyme in a small saucepan. Bring to the boil, then simmer for 15 to 20 minutes, or until al dente. Drain in a sieve.

Meanwhile, in a separate saucepan, cook the celeriac in plenty of boiling salted water for 8 to 12 minutes, or until just tender. Drain.
In a large bowl mix the hot lentils (if they have cooled down they won't soak up all the flavors) with the olive oil, 2 tablespoons of the hazelnut oil, the vinegar, plenty of salt and some black pepper. Add the celeriac and stir well. Taste and adjust the seasoning.

To serve right away, stir in half the mint and half the hazelnuts. Pile onto a serving dish or in a bowl and drizzle the remaining hazelnut oil on top. Garnish with the rest of the mint and hazelnuts. To serve cold, wait for the lentils and celeriac to cool down, then adjust the seasoning or add some more vinegar, if you like. Add hazelnut oil, mint and nuts in the same way as when serving hot. Makes 4 servings.
(source: NPR Food)
We heard you!
Last year, we asked members for their feedback and thoughts about additional ways we could provide healthy, local food. We heard you and we're striving to offer additional products that you can order online and have delivered to your site. We have a brief supplemental survey to understand your preferences, and we'd welcome your thoughts again. Thank you in advance!