Farm News - February Winter Share   
Announcements & Reminders
Winter Produce and Egg Shares pick-up this week. We are also delivering Egg Sale orders.

Tuesday

: Deerfield, Evanston, Northbrook/Highland Park, Lake Forest

Thursday

: Allstate, Libertyville, Vernon Hills, Oak Park, At the Farm

Upcoming Delivery Dates:

Winter Shares 

Tuesday, March 6 and Thursday, March 8

 

Tuesday, April 3 and Thursday, April 5

Spring Shares - Begin the week of 

April 23

!

Website Update - We've updated our website to make it more useful to you. We've added new tools to find recipes, view our our social posts and find us at markets and events, as well as the information you've come to expect (e.g. delivery calendars, pickup location maps). We'll continuing to add more resources in the weeks to come, so check back! 
  This Month's Produce Harvest
Tart Cherries*
Blueberries*
Tomatoes*
Beets
Carrots
Potatoes
Rutabaga
Shallots
Green Cabbage
Foraged Harvest Homemade Jam
*These summer treats are frozen.   
Farm Journal Good morning from the snowy farm! Despite the recent snow falls, we are indeed turning our sights towards spring.
A recent sunny day, Jeff began a project of adding more life and health to the hoophouse soils by incorporating compost nutrients.
This used to be manual process taking days of time and effort. Last year, we made this process much easier with the addition of hoophouse walls that open and close allowing for tractors to move inside.
Jeff incorporates nutrients into the hoophouse soils to prepare for spring planting. 
The snow continues to blanket the farm, however there were plenty of warm, melty days of January providing a window into activity beneath the soil. The garlic is starting to appear! Luckily, the plants are used to a good amount of freezing and thawing, so these green leaves will survive chilly winds and snow until spring. 
In nearly a week, these friendly and familiar faces will return to the farm to begin the greenhouse set up. Elaine, Charlotte and Tyler test heaters, prepare seedling flats, organize seeds and set up greenhouse tables. We aim to accomplish this work before we all depart for our annual trip to LaCrosse, Wisconsin for the MOSES Organic Farming Conference. We'll meet and learn with over 3,000 farmers from across the country about new innovations and best practices for our style of farming. Its always a winter highlight! 
While we're away, the animals will be in charge of the farm. Luke the goat welcomes farm visitors as he sunbathes in the morning sunshine and enjoys all the fresh farm scraps that come his way. 
The Red-Tailed Hawks are truly in charge. While a beautiful site to behold, these hungry birds of prey continue to pose a threat to our chicken flock. We aim to keep our chickens protected and stress-free by bringing their fresh farm scraps into the coop. We also provide them with scratch grains (cracked, rolled, or whole grains such as corn, barley, oats, or wheat) to replace some of what the get outside in the summer and keep them busy by encouraging their natural behavior to scratch at the ground for food to eat.  
When we return from the conference, we will begin to plant the seeds for the upcoming season. Even with spring preparations underway, we look forward to more peaceful winter walks and beautiful winter sunrises in the weeks to come. Enjoy the snow!
 
Your farmers,
Jeff, Jen and the farm crew   
Making the most of your share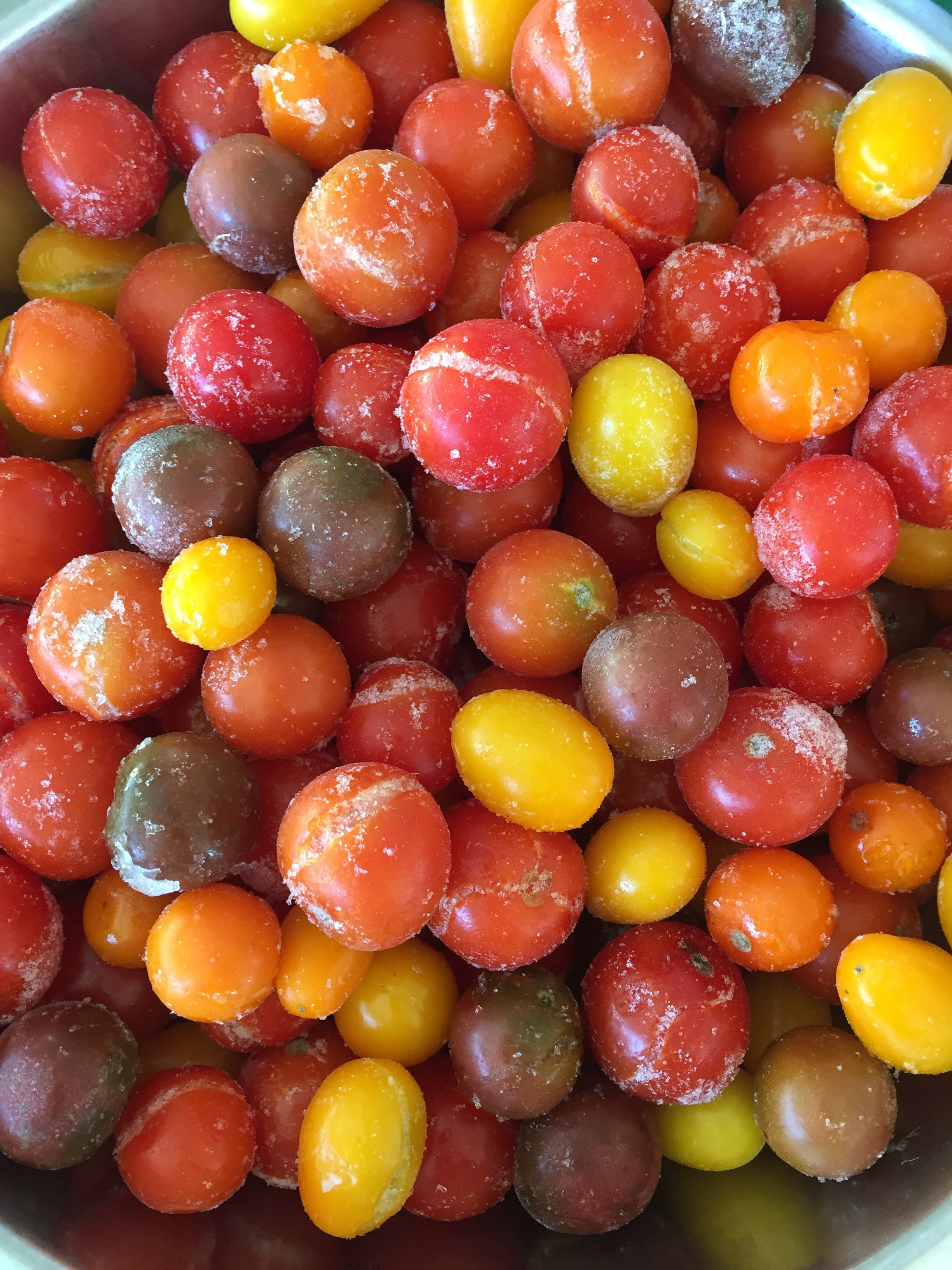 Last summer, our tomato crop reached peak production in mid-September, which always signals the ideal moment to get into the kitchen and preserve the harvest for winter. We've frozen tomatoes for members, as we believe that what frozen tomatoes lose in their physical structure, they make up for in their fresh, summer flavor. Frozen tomatoes work well in sauces, stews, chilis and soups. I usually add whole, frozen tomatoes to light, broth-based soups about 10 to 15 minutes to maintain their fresh, tomato flavor. I also stir tomatoes into hearty soups and stews made in the slow cooker at the beginning of the cooking process so that the flavor blends with other ingredients and seasonings.  
Rutabagas are creamy and starchy with a pale yellow flesh. Rutabagas are rich in vitamin C, dietary fiber, potassium and antioxidant compounds. They work well for mashing, roasting and braising.  We like to use in place of potatoes or combine with potatoes for a mashed rutabaga and potato dish. Rutabagas also store extremely well when wrapped in a plastic bag in your refrigerator.
One of our mentors and friend the farm, Linda Weins, made the Foraged Harvest jam included in this month's share. Born in Germany, Linda is a Canadian citizen who first came here as a consultant to the Prairie Crossing developers. She's now a Senior Advisor for the Liberty Prairie Foundation (our landowners) and primarily responsible for managing the Prairie Crossing community garden, leading lifelong learning workshops in home cooking and preserving, and maintaining the small fruit orchard at the farm as well as the neighborhood's edible landscape nearby. Her jams are homemade from foraged fruit from these orchards, as well as fruit from our friends, the Klugs and low in sugar. They are a delicious addition to yogurt, toast or as a spread alongside soft cheeses (e.g., chevre).   
Farm Kitchen Recipes

Mashed Potatoes with Rutabagas and Buttermilk
1 1/2 pounds rutabagas, peeled, cut into 1-inch pieces
3 pounds potatoes, peeled, cut into 2-inch pieces
6 tablespoons (3/4 stick) butter
3/4 cup (or more) buttermilk
Chopped green onion tops
 
Cook rutabagas in large pot of boiling salted water until very tender, about 20 minutes. Using slotted spoon, transfer rutabagas to strainer. Press gently to release any excess liquid.
 
Add potatoes to same pot of boiling water; cook until tender, about 20 minutes. Drain well. Return potatoes and rutabagas to same pot. Add butter; mash well. Add 3/4 cup buttermilk; mash until smooth. Season with salt and pepper. (Can be made 6 hours ahead. Cover and chill. Stir over low heat to rewarm, adding more buttermilk by tablespoonfuls, if desired.)
 
Transfer potatoes to bowl. Sprinkle with green onions and serve. Serves 8.
(adapted from Epicurious.com)
 
Sour Cherry Chocolate Scones - My kids love these!
3 cups all-purpose flour
3 tablespoons white granulated sugar
1 teaspoon baking soda
1/2 teaspoon sea salt
4 tablespoons unsalted butter, frozen
1/2 pound frozen sour cherries
6 ounces chocolate chunks or chips or morsels
1 cup buttermilk, plus about 2 tablespoons more for topping
1 tablespoon turbinado sugar, as topping
 
Line a baking sheet with parchment and set aside. In a large mixing bowl, mix together the flour, sugar, baking soda and salt. Using a box grater, grate the butter into the dry ingredients and mix quickly, breaking up the butter so it resembles the size of small peas. Add the frozen cherries and toss so they're evenly distributed throughout the flour. Next, do the same with the chocolate chunks or chips.
 
Create a well in the center of the flour mixture and in one batch, add the buttermilk. Using a wooden spoon or spatula, mix it together until it forms a shaggy ball. Drop the dough onto a lightly floured counter and knead a few times, being sure to not over handle it, which will result in tough scones. Form the dough into 1 1/2-inch thick disk. Using a knife, cut the scones into 8 equal triangles. Transfer the scones to the baking sheet and put in the freezer to chill for 15 minutes. At this time, preheat the oven to 425 degrees F.

Brush the tops with the buttermilk and sprinkle with a bit of turbinado sugar. Transfer the scones to the oven to bake for 25 to 30 minutes, until a skewer inserted into the centers comes out clean and the scones are golden brown. Yields 8 scones.
(adapted from PBS food)

Pierogies with Cabbage and Dill
20 frozen potato-cheese pierogies (about 28 oz; not thawed)
3 tablespoons olive oil
1 large onion, halved lengthwise, then thinly sliced crosswise
4 garlic cloves, chopped
8 cups thinly sliced cabbage (green or savoyed)
1/2 cup water
1/4 teaspoon salt
1/3 cup chopped fresh dill

Parboil pierogies in a pot of boiling salted water, uncovered, stirring occasionally, 1 minute less than package instructions indicate (pierogies will not be completely cooked). Transfer with a slotted spoon to a colander to drain. Pat dry.

Heat 1 tablespoon oil in a 12-inch heavy skillet over moderately high heat until hot, then sauté half of pierogies, turning over once, until golden, about 4 minutes per batch. Transfer to a large platter and keep warm, loosely covered with foil. Add 1 tablespoon oil to skillet and sauté remaining pierogies in same manner, transferring to platter.

Add remaining tablespoon oil and sauté onion over moderately high heat, stirring, until golden, about 8 minutes. Reduce heat to moderate, then stir in garlic, cabbage, water, and salt and cook, covered, stirring occasionally, until cabbage is tender, 5 to 7 minutes. Transfer to platter with pierogies and sprinkle with dill. Serves 4.  
Thank you for your early commitment to the farm!

A sincere thank you to those who have signed up to join us in 2018. We appreciate your early commitment to better plan our seed orders, our staffing needs and our spring planting work.

If you're willing, please share your CSA experience with interested friends, family or neighbors. We'd love to welcome new faces to the farm!

Membership also includes farm newsletters, CSA member-only events at the farm, CSA member discounts on bulk produce (think tomatoes!) and conversations with people who grow your food. As a token of our appreciation, we're offering the following discount codes good through February 28th:
Please reserve your farm membership to enjoy locally and responsibly grown, healthy food. Thank you for supporting family-scale agriculture!   Next Month's Harvest (our best guess)... spinach, black beans, blueberries, cherries, carrots and more!