Farm News for the week of May 22nd Important Reminders
This week is a pickup week for weekly members registered for Spring Vegetable Shares.
Join us this Sunday, May 27 from 4-7pm for Pizza on the Farm - Pizzeria Deville's Chef John Durning brings his wood-burning oven to the farm to create delicious, farm-fresh pizzas for purchase. Organic farm salads and produce also available. Bring your picnic, listen to live music and enjoy sunset on the farm. 
Good News! More options for Summer Shares - We're offering Summer/Fall Vegetable and Summer/Fall Egg Share Packages to allow members to join the farm for multiple seasons and enjoy a savings. Also for your convenience, we've added a new pickup location in Glenview. There's still time to join us this season, so please help us share the news with friends and co-workers. Thank you!
This Week's Vegetable Harvest:
Red Romaine Head Lettuce
Green Romaine Head Lettuce
White Scallions
Spring Salad Mix
Fresh Oregano 
Winter Spinach
Organic Tomato Puree 
Asparagus
Frozen Blueberries - from Mick Klug Farm
Farm Journal
Despite a few raindrops, we had a great first farmers' market of the season. Thank you to those who visited our stand!

We've had several days of continuous rain at the farm so we're focusing on some experimental projects while the fields dry out. 
We strive grow our crops using responsible and sustainable methods as organic vegetable growers. One of our personal goals is to give more to the land than we take from it, and to us, this means building resilient, rich soils and fostering our natural ecosystem. 

Our soils are the life blood of our work and farm. They are very high in organic matter (~7-8%). This organic matter gives the soils a strong inherent fertility, which translates into more nutritious food for us all.

In effort to hold these soils in place, better manage weeds and continue to build our organic matter and soil life, we are experimenting with incorporating more no-till/low-till strategies into our farm. We've used these strategies on a small scale in the past and this season, we are experimenting with using them on a larger scale. So last week, Jeff used our tiller to begin the no-till process into our one acre field of winter rye.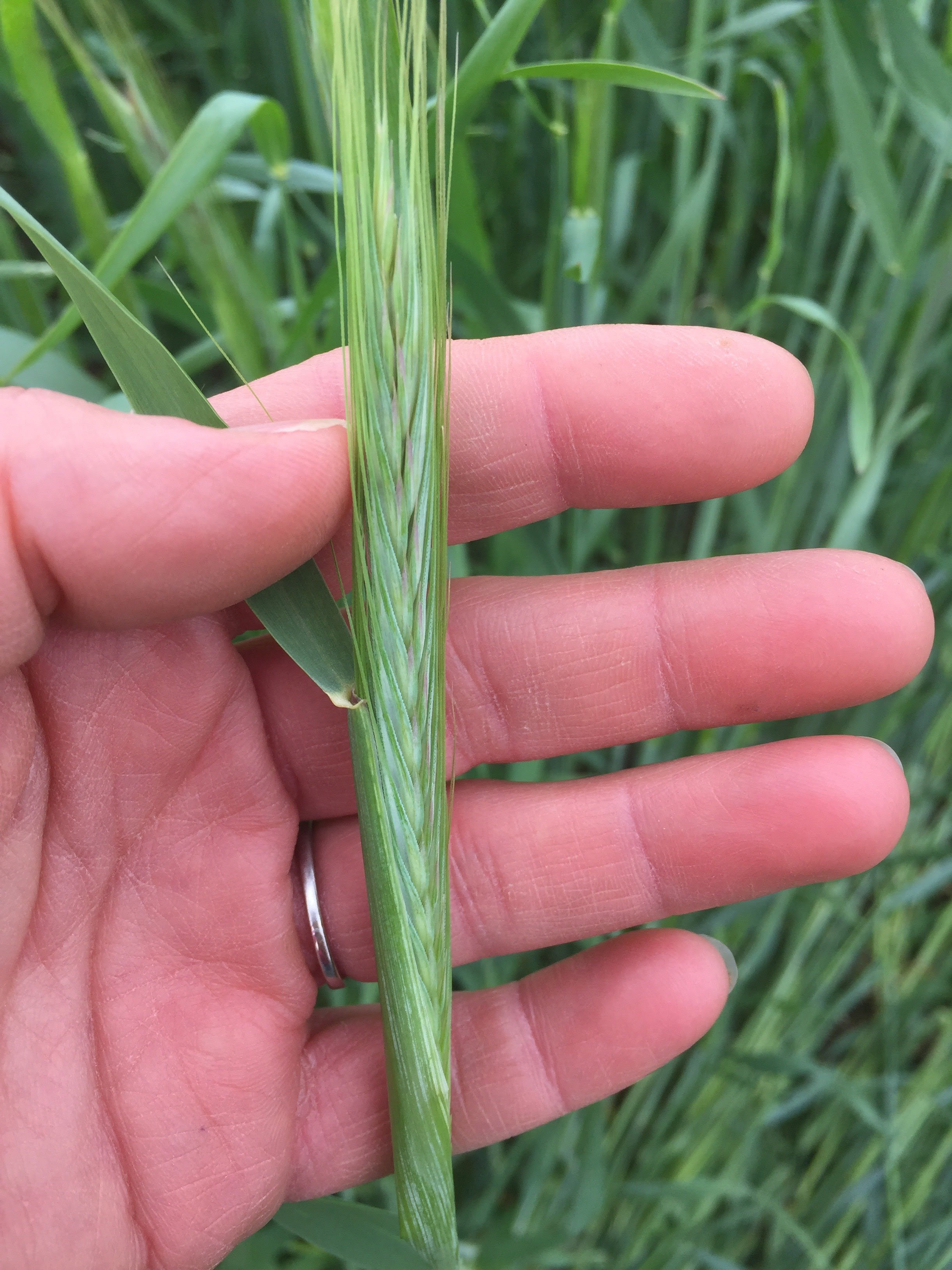 The stand of winter rye was planted in the fall of 2017, following our carrots and beet harvest. The rye was planted as a cover crop, which is a crop planted with the purpose of feeding and protecting the soil. Once this rye began to put on heads, it was time to terminate the crop by crimping and rolling the tall, strong stems. 
By crimping the plant in this manner, without disrupting the soil, the cover crop will die and provide a layer of protection against weeds and feed the soil as it decomposes. Jeff will then seed beans directly into the mat of dry rye remaining on top. Once the green beans begin to grow, they will have a head start on the weeds, more consistent moisture and (we hope!) a successful, nutrient-filled crop for us all to enjoy.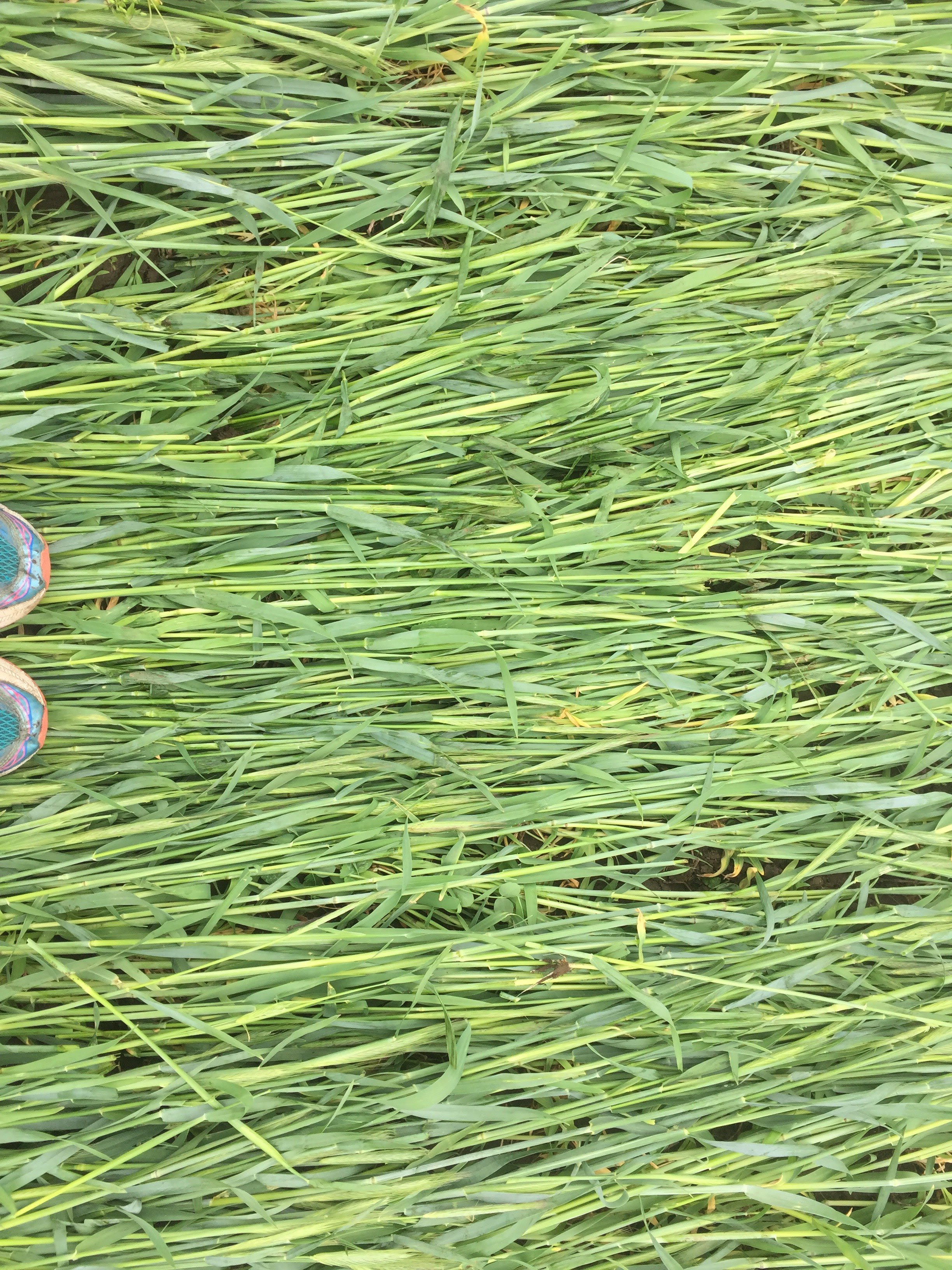 Ironic to use a tiller for a no-till trial? We used the tiller for it weight and size by simply rolling the implement's blades over the ground. This not a traditional crimping tool but we hope it will gives us a window into how this practice might be incorporated into our farm. 
The winter rye cover crop is "crimped" and rolled onto its side. This terminates the crop, making room for planting, and provides ongoing protection of the soil. Part of our mission is to "nurture our soils and treat the land with deference to build resiliency for generations to come." We believe this experiment will provide us with another tool towards this meeting this goal. We'll keep you updated on our progress.

Enjoy your share of the harvest!

Your Farmers, 
Jeff, Jen & the farm crew     
Notes from the Farm Kitchen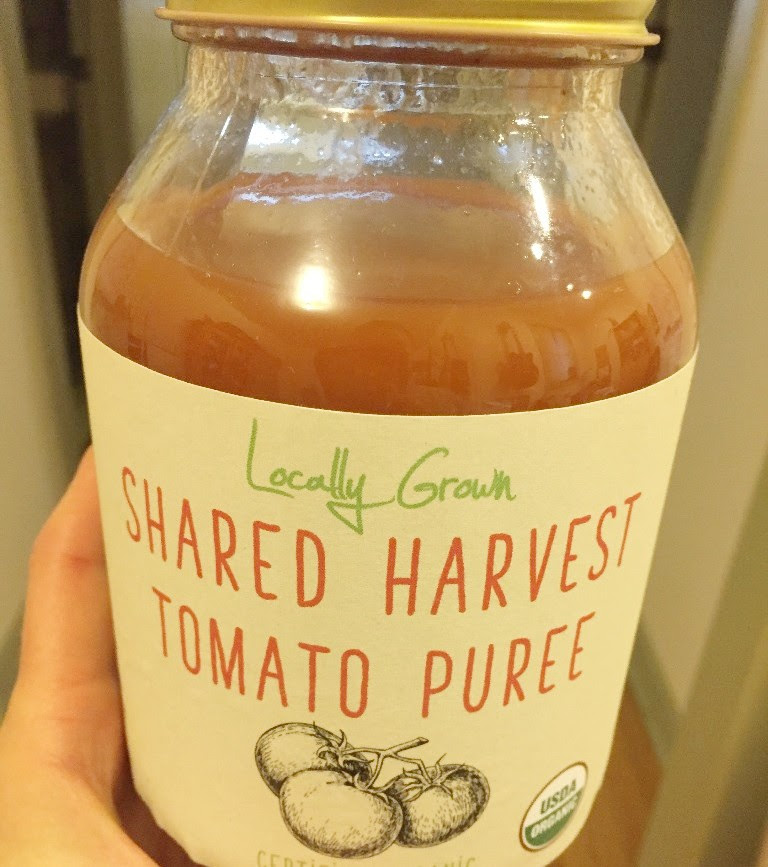 This week's shares include our organic Shared Harvest Tomato Puree. We created this product by preserving our tomato harvest and working in cooperation with our good friends at Turtle Creek Gardens. Both of our farms harvested from our certified organic tomato fields and combined the harvests to produce Shared Harvest Tomato Puree.
Turtle Creek Gardens is run by Janet Gamble and Steve Tomlins. The farm consists of 20 acres devoted to certified organic vegetable production and 80 acres of grazing lands. Nestled in the Turtle Creek watershed just north of Delavan, WI, Turtle Creek grows using organic and biodynamic farming practices that care for the soil, ground water, and adjacent natural areas. We've known Janet Gamble for nearly 12 years in her various roles as a farm educator, farming advocate, farmer and friend.
Tomato puree is a sauce of pureed, briefly cooked tomatoes that have been strained of seeds and skins. Our recipe includes a nominal amount of organic seasonings.  The puree is a wonderful base for soups, chili and pasta sauce. It can also be used as a basting liquid when roasting vegetables or in the crockpot when for slow-cooking a roast. The puree is shelf-stable, and should be refrigerated after opening.
Our friends at Mick Klug Farm preserved last season's blueberry for us to enjoy in the winter and early spring months. Each member is receiving a pound of frozen blueberries this week, which work well in everything from baked goods to your favorite morning smoothie. They store well for months in your freezer.   
Our Favorite Seasonal Recipes

Simple Tomato Florentine Soup - We like add cooked cheese tortellini to this soup for additional flavor and protein.
 
1 cup diced yellow onion
1 cup sliced carrot half moons (about 1 large to two medium)
3/4 cup diced celery
1 (32 ounce) jar Tomato Puree
8 cups (2 quarts) vegetable broth
2 handfuls of winter spinach
freshly grated Parmesan Reggiano, for serving
minced fresh oregano, for garnish
 
Add olive oil to a large Dutch oven or soup pot. Heat over medium, then add the onions, carrots, celery. Cook for 10 minutes or until tender. Add in the tomato puree and broth, stir and bring to a simmer. Once bubbling; cover, reduce heat to low. Add in spinach, stir until the spinach has wilted and salt and pepper if needed. Ladle soup into bowls and top with Parmesan Reggiano, minced oregano and extra freshly ground black pepper. Serves 4-6.
 
Blueberry Galette - This recipe is a family favorite!
1 lb frozen blueberries
2 tablespoons cornstarch
1 tablespoon finely grated fresh lemon zest
1 tablespoon fresh lemon juice
1/4 teaspoon ground cinnamon
1/4 teaspoon salt
1/2 cup plus 1 teaspoon sugar
1 (9-inch) refrigerated pie dough (from a 15-oz package)
1 tablespoon cold unsalted butter, cut into pieces
1 large egg, lightly beaten
Garnish: grated lemon zest (optional)
 
Put oven rack in middle position and preheat oven to 425°F. Line a large baking sheet with foil and butter foil. Stir together blueberries, cornstarch, zest, juice, cinnamon, salt, and 1/2 cup sugar in a large bowl until combined. Unwrap pie dough and unfold onto baking sheet, then spoon blueberry mixture onto center of dough, leaving a 1 1/2-inch border around edge. Fold edge of dough over 1 inch of blueberry mixture, pleating dough, then dot blueberry filling with butter pieces. Lightly brush pastry with some of beaten egg and sprinkle with remaining teaspoon sugar. Bake until blueberry filling is bubbling and pastry is golden, 25 to 30 minutes. Cool slightly on baking sheet on a rack. Serve warm galette with scoops of lemon ice cream.
(slightly adapted from Epicurious.com)


Lettuce Recipes That Go Beyond Salad - I've found this to be a great resource for my spring cooking. Enjoy!
Next Week's Harvest (our best guess)... swiss chard, rhubarb, head lettuce, cilantro and more!